Saving Money For Your Business with the Section 179 Tax Incentives in New Castle, DE
For Business owners in West Chester, PA, and Newark, DE, who are collecting their tax data for 2019, taking advantage of the Section 179 Deduction can help save your company money this tax season. If you're a new business manager or owner and you're searching for ways to save some cash, when you choose a commercial truck or van from our dealership, you can receive money back this year when filing your next tax return. Here's how the Section 179 Deduction works.
Section 179 Tax Deduction DE
You may have heard that filing for a Section 179 Tax deduction is complicated, but saving money in this day and age is simple with the updated technology available. 
As a business owner one of the most important things for you to do near the end of the year is determine how your taxes break down, how much you will owe, and if there are any ways for you to save some of your money. One of the most underutilized tax deductions is the Section 179 Deduction, that for many years just seemed like a hidden loophole that seemed like a lot of work to take advantage of. But, for 2019, the Section 179 Deduction is much easier to take advantage. 
It works like this. Ford truck and van drivers who buy or lease a vehicle from our dealership can deduct the full price from their gross income on equipment that qualifies.Whether you run a small or large business in the New Castle area, all qualify but keep in mind there is a $2,500,000 limit for write-offs. Also, the vehicles your purchase for your fleet must be used for business purposes only and used 50% of the time to qualify for the full tax refund
Bayshore Ford Truck Sales in New Castle, DE we want to make sure the small business owners of the Upper Darby and Newark, DE area can save the most money possible!
You are probably asking yourself what the Section 179 Deduction is and how does it benefit your business? With this deduction you are able to write-off certain purchases that benefit your business. For many years this deduction was referred to as the "SUV Tax Loophole," but in more recent years this deduction has become useful for other purchases as well! When you take advantage of this deduction you are able to write-off up to $2,500,000 of purchases on things like cars, trucks, equipment and software! This is unlike other write-off options because you can write off the total price of a purchase made during the 2019 tax year to help you save money.
An example calculation using the 2019 Section 179 Tax Deduction: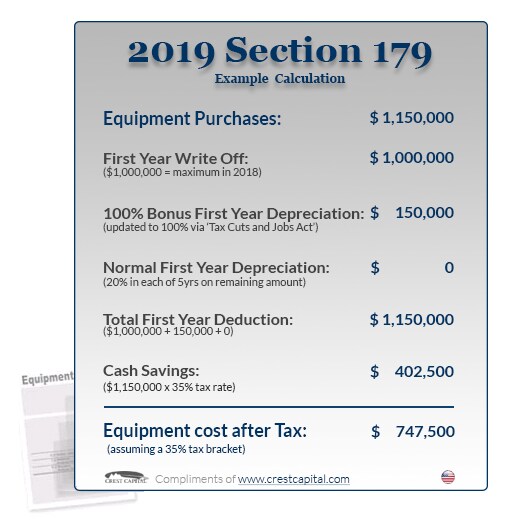 Here at Bayshore Ford Truck Sales we know how important small businesses are to the areas of West Chester, PA and Wilmington, DE and we want to make sure we do our work to keep these businesses informed. With this deduction you are able to write-off your work truck purchases and make sure you are able to stay profitable for longer. 
Utilize the Incentives Available to You and Save Your Business Money
Our team is here to help you If you have any questions about our tax incentives on new Ford work vehicles, learn more by speaking with our Ford experts here at Bayshore Truck Center. We're happy to help you and your company with tax savings, and we work diligently to provide you with the Ford vehicle fleet that optimizes your workflow in Upper Darby and Wilmington, DE!