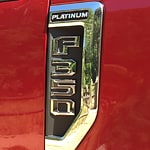 There are those who demand more from their heavy-duty trucks. For them, the Ford Super Duty has been designed to handle it all. That's why the Super Duty is the most popular heavy-duty truck in America.
One key durability feature of the Super Duty is the fact that it is the only truck in its class with a high-strength, military-grade, aluminum-alloy body. That means the Super Duty can handle the most demanding worksite chores while still being able to have fun on the most challenging off-road adventures. When it comes to handling big payloads, the Super Duty answers the call with its fully boxed frame built with 95 percent high-strength steel and 10 cross members. Go ahead and push this Super Duty. It has been designed to handle it all.
Bayshore Ford Truck Sales invites you to check out the tough and durable Ford Super Duty today. This is the heavy-duty truck that you have been waiting for.